Since completing Plate 9 I've found a small number of similar dishes and bowls at various museums. Importantly, some of them have more information about the style so here's a round up of images found so far: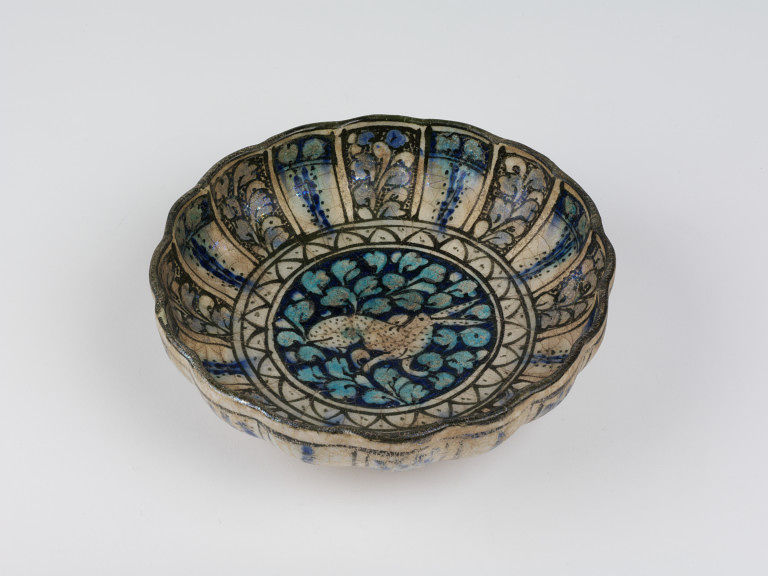 Bunny Bowl, Iran, 1260-1350. V&A Museum. Item number: C.414-1918
This bowl is an example of a type of ceramic that became very popular under the Ilkhanids. It is known as 'Sultanabad ware' after the place it was first found. However, these wares were probably made at Kashan - the main centre of pottery production in Iran before the Mongol invasions of the early 13th century, which continued to operate during the Ilkhanid period (1256-1353).
The Mongol invasions created a close link between the Middle East and China as both regions came to be ruled by the Mongol viceroys. In China this was known as the Yuan dynasty. These dynasties maintained close cultural links with each other through trade, by sea and land, along the silk route. This created a flow of many new artistic motifs from China into the Middle East such as the dragon, the phoenix and the lotus blossom.
The bowl represents some of the characteristics of Ilkhanid wares that are attributed to Sultanabad. Such is the decoration in slip painting that covers interior and exterior except for the low foot. Black is used for the outlines of the decoration. The lobed shape of the bowl copies Chinese bowls which were imported in large numbers at this time. Single animals in a densely foliated background, like the present bowl, were a popular subject during the Ilkhanid period.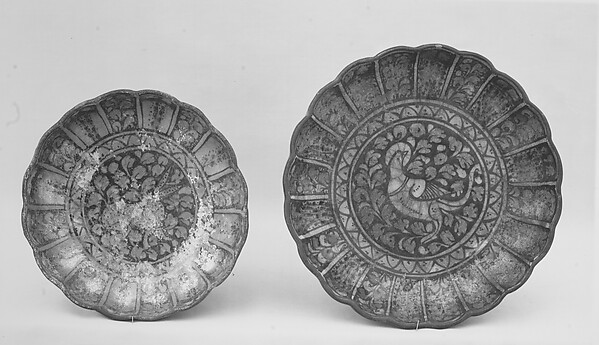 A very similar bunny dish from the Met Museum next to the original inspiration for Plate 9. Iran, 14th C, accession Number 91.1.184.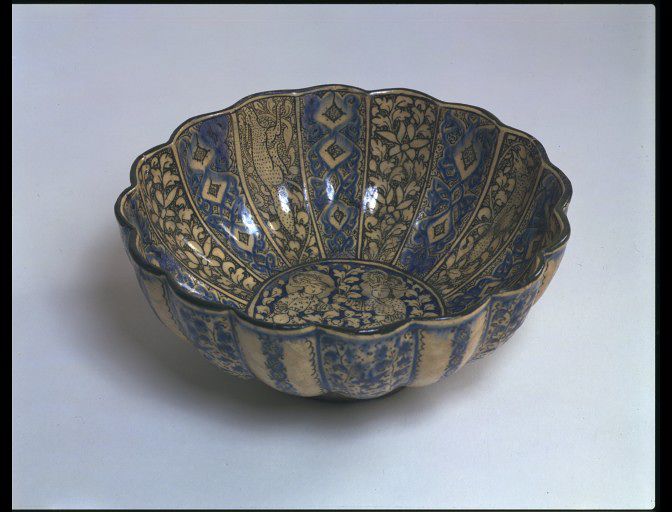 Bowl, Iran. 1260 - 1350. Met Museum. Accession Number C.10-1960. I want to put this bowl in the Ilkhanid category too due to it's shape and motifs used in the center roundel and decoration on the sides of the bowl.
The decoration of this bowl reflects the influence of Mongol rule on Iranian ceramics. Production of ceramics with decoration painted under the glaze, as here, resumed about 1260.

The sides of this bowl are divided into panels, a design copied from Chinese bowls imported at this time. In the centre are two seated men. They can be identified as Mongols from their headgear, which is topped by large owl feathers, a sign of status.

The invasions of Iran by pagan Mongols under Genghis Khan (ruled 1206–1227) brought devastation and disruption, especially in the east. But they were followed by a period of increasing prosperity, as the unification of much of Asia under Mongol rule caused a boom in international trade.
Other items of visual interest: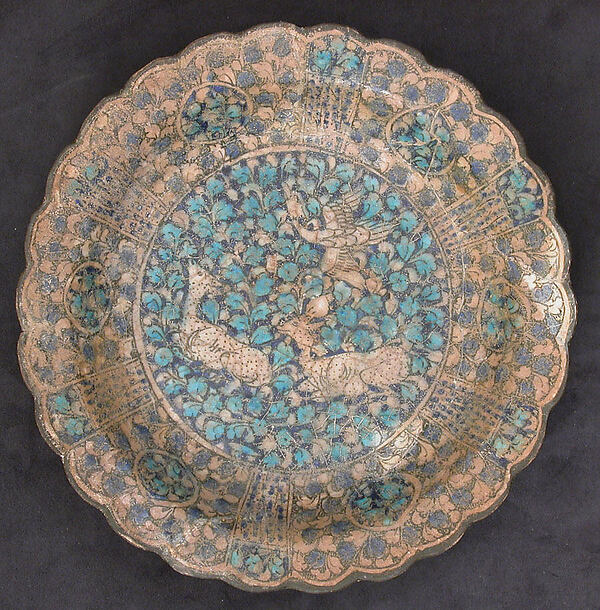 Deer and Phoenix dish. 14th C, Iran. Met Museum of Art, accession number 17.120.99. Background is very similar to that of Plate 9 in both colour and foliage design.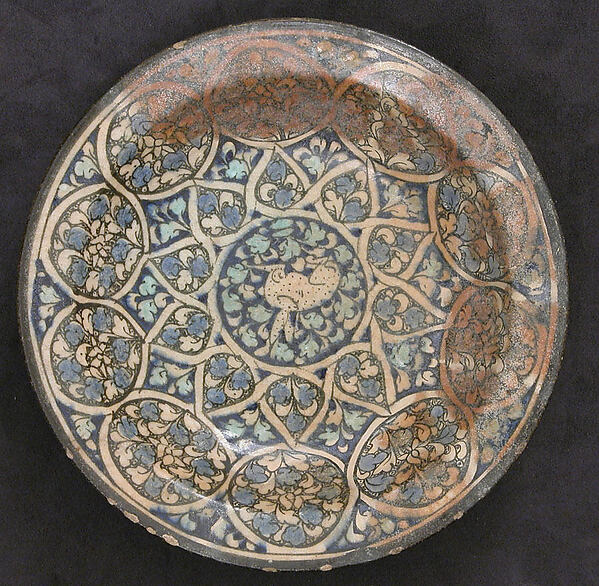 Upside down bunny
dish
. 14th C. Iran. Sontepaste painted under transparent glaze. Met Museum. Accession Number 32.60. Though a simple circle this plate appears to be alot more complex and has a Middle Eastern feel with foliage blocks resembling tiling. The style of the bunny itself is also very similar to the V&A bowl (C.414-1918).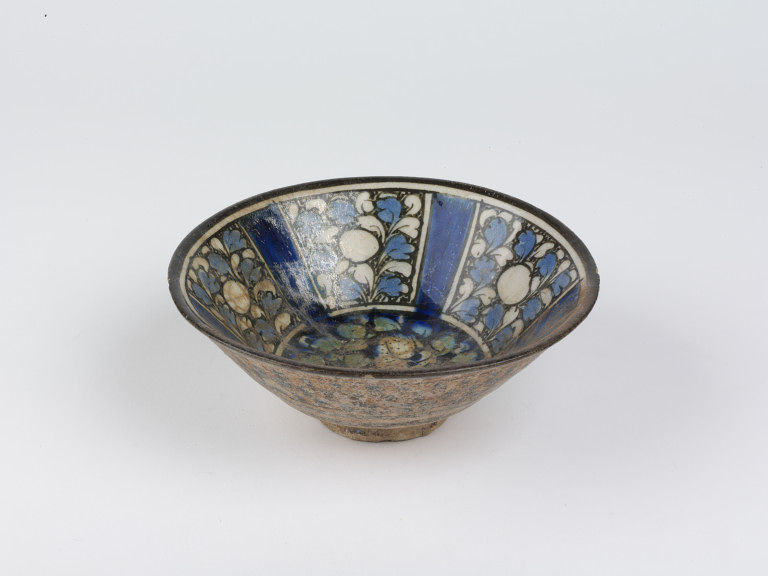 Bowl, Iran. 13th C to 14th C. V&A. Mus Number C. 184-1928. Bowl features similar hare design as the first bowl as well as the alternatively painted foliage as in Plate 9.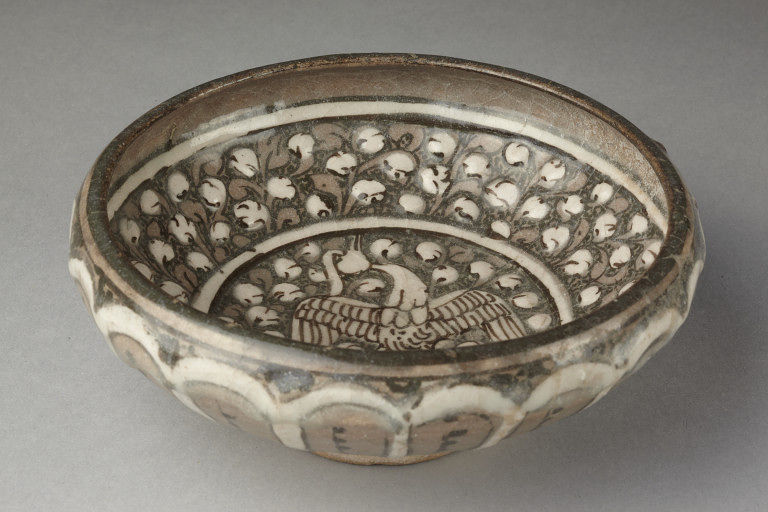 Bowl, Iran. 1260-1350. V&A. Item C.53-1955. Fritware decorated in white slip oin a grey englobe outlined in black under a clear glaze. Convex sides, curving in at the lip. The base of the interior decorated with a flying phoenix within a densely populated ground of foliage. The exterior with radiating petals in white outlined in black.This type of ware is known as 'Sultanabad' ware after where it was first found, but was probably made at Kashan. Foliage similar to Plate 9 as is bird motif.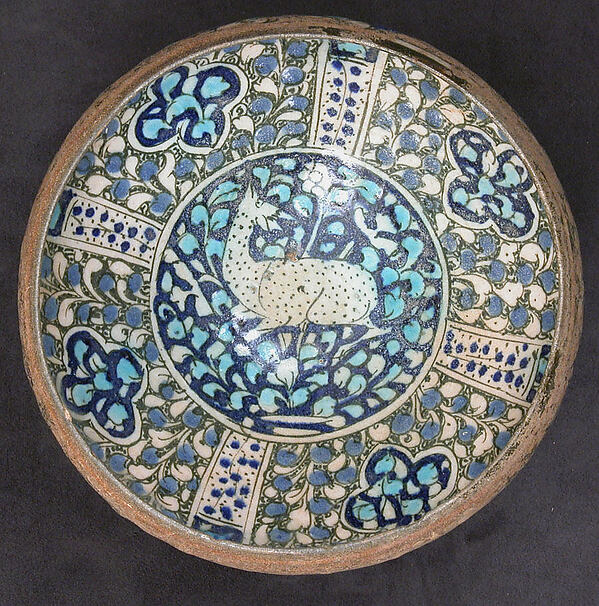 Bowl with Deer Motif. 14th C. Iran, probably Kashan. Stonepaste, underglaze painted. Met Museum. item no. 41.165.43. Foliage and alternate painting is similar to Plate 9 as is the sort of lobby quartering borders.
And finally, a rare one showing humans: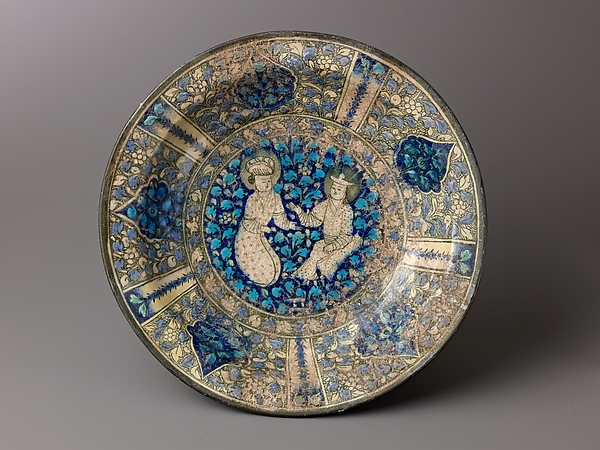 Bowl (sultanabad ware) 14th century, Iran. Composite body. 13in diameter. Met Museum no 1975.1.1646
Conclusions:
The alternatively painted / blank blue green foliage appear to be attributed to the Kushan, Iran around 1260-1350 CE. Bird and animal images were popular as was division / segmentation of the ceramic item by simple foliate designs. These items are fritware (or Islamic stonepaste or quartz paste or faience). Sadly the
Ceramic Dictionary
doesn't have a definition for these as its focus is on modern work. According to
V&A,
"It was developed by Middle Eastern potters as a response to the challenge posed by Chinese porcelain. Unlike high-fired Chinese porcelain, low-fired fritware was soft and porous, but like porcelain it was white all the way through and could be used to make convincing substitutes.".
In this light, Ifeel that the modern bisque that I'm using is a suitable substitute for a) making my own plates and b) using stonepaste or porcelain.
The fact the V&A has a
bunny bowl
while the Met Museum has a
bunny plate
makes me want to paint both as a set. Though I suspect I'll bored half way through the second item as I like to make new things every time. I do, however, really like working with the blues and greens. They're somehow peaceful.