Motivation: The inspiration image for Elizabet's plate was linked to facebook by Lady Alliette. She's wonderful and artistic and also has a cat like device. I felt a bit mean making the plate for Elizabet rather than Alliette so I decided to make them both heraldic cups. Elizabet's has been painted in a style to match her plate so she has a set - sort of. Alliette's is just a simple cup with her heraldry on it. She's a bit of a tea fiend so I hope she gets a lot of use out of this.
Also, these cups (I think Glazeit bills them as vases) are a little smaller and daintier than your average mug - perfect for small feminine hands!
As the girls didn't know I was making these for them I planned a surprise! At Great Northern War there is the most spectacular merchant - Merlin the coffee man. He is a wizard with a brew and makes a range of mighty fine beverages. So, to unveil my gifts, I swore Merlin to secrecy and gave him the mugs. Then I dragged the girls over to try his chai-of-the-tyger with leopard print. Rather than the typical paper cup, their beverages were presented in their custom mugs. I had included a little extra surprise in the bottom of each cup to make the girls smile - a napping kitty. Once they finished the opaque liquid, the kitty was revealed.
The kitty is revealed...
Cup shape:
Elizabet's cup:
Extant cups were decorated with lustre in a style similar to plates and bowls of the time. The cup below is located in the V&A museum. It hails from Manises, Spain, 1625-1700,
Museum number 447-1903.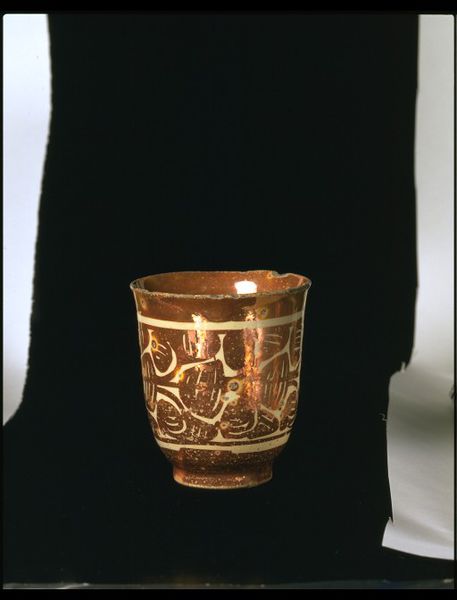 Alliette's cup:
Adding heraldic devices and charges to ceramic items was a popular way of customising items in the late middle ages -> renaissance. The devices were often a small focal point in a wonderfully complex design. Examples in plates can be seen from Gabs and Stanzi's plates or in the cup below.
Caudle cup with the arms of the Leathersellers' Company. 1660, Southwark.
Item summary:

#28 & 29 – Kitty Cups


Motivation: Because I could.

Materials:
Bisque ceramic cups and underglaze


Year: #28 patterned off #27 (Elizabets plate). Design in the bottom third is Spanish 1450's in origin but reinterpreted to work on the cup shape. #29 is patterned off Lady Alliette's personal heraldry. I have found examples of heraldry on cups and mugs at this time period however they are often a small part of a larger decorative piece.

How historically accurate is it?
The cup shape is reasonably accurate. I have found examples of barrel cups from multiple locations and times throughout period. These come in both ceramic and glass with and without handles.
Elizabet's design is a good faximilie of extant Spanish pieces while Alliette's is a plain version of period items which displayed heraldry.


Hours to complete: ~6 hours each

Total cost: $25 in materials each
The lovely Lady Elizabet with her cup