Blue on White ceramics: the reciprocal influence of Chinese porcelain on European and Middle Eastern ceramics - Japan
Other essays on the history of BoW in Iraq, Egypt, early Iran,
late Iran, China, Turkey, Spain, The Netherlands, Italy and England.
Japan
Japan was a relative late comer to the European BoW ceramics trade, with trade treaties being established in the 17th century. Japan's main contribution came from the Arita kilns thus the items are called Arita ware or Imari after the local shipping port. Though the kilns produced fine polychrome (blue underglaze with red and gold overglaze) porcelain
(1, 2)
for the home market, a majority of the items sold internationally replicated the BoW porcelain of China.
The Dutch population was introduced to Chinese porcelain when quantities were seized in 1602 and again in 1604 with the capture of two Portuguese ships. Soon after the Dutch East India company started pursuing the trade of Chinese ceramics, importing approximately 3 million items into Holland before civil unrest in China and the rise of the Qing Dynasty terminated trade.
The new dynasty stopped trade of porcelain in the late 17th century leaving a BoW vacuum that was filled by a number of nations. As previously discussed, the potters of Kerman, Iran stepped up earthenware production and as did the porcelain craftsmen of Arita, Japan.
The porcelain of Arita was traded to Europe through the Dutch East India company (

Vereenigde Oostindische Compagnie - VOC).
Due to Japan's isolationist policy, the Dutch were the only Europeans able to maintain a trading post in Japan from the 1640's to the 1850's.

Due to their patronage, quite a few VOC branded lines were produced at the Arita kilns (3, 4, 5, 6, 7) . These items featured both Japanese motifs (8) and the reinterpretation of Mingware patterns. The 8 lobed border of the 1600's Mingware is frequently featured and will often contain images of auspicious items (9, 10). One reoccurring theme on the 8 lobed plates seems to be a pot or vase with a flowering plant (11, 12). As with the export production in China, the Arita kilns also recreated European items and designs such as this reinterpretation of a Delft Albarello (13).
Japan maintained exports via the VOC for at least a century until China established their porcelain kilns and recommenced trade. There can be no doubt, the Japanese interpretation of Chinese designs had an impact on the perception of Asian ceramics in the late 17th century. The significance of this influence will be examined in my examination of the Dutch delft and BoW trade.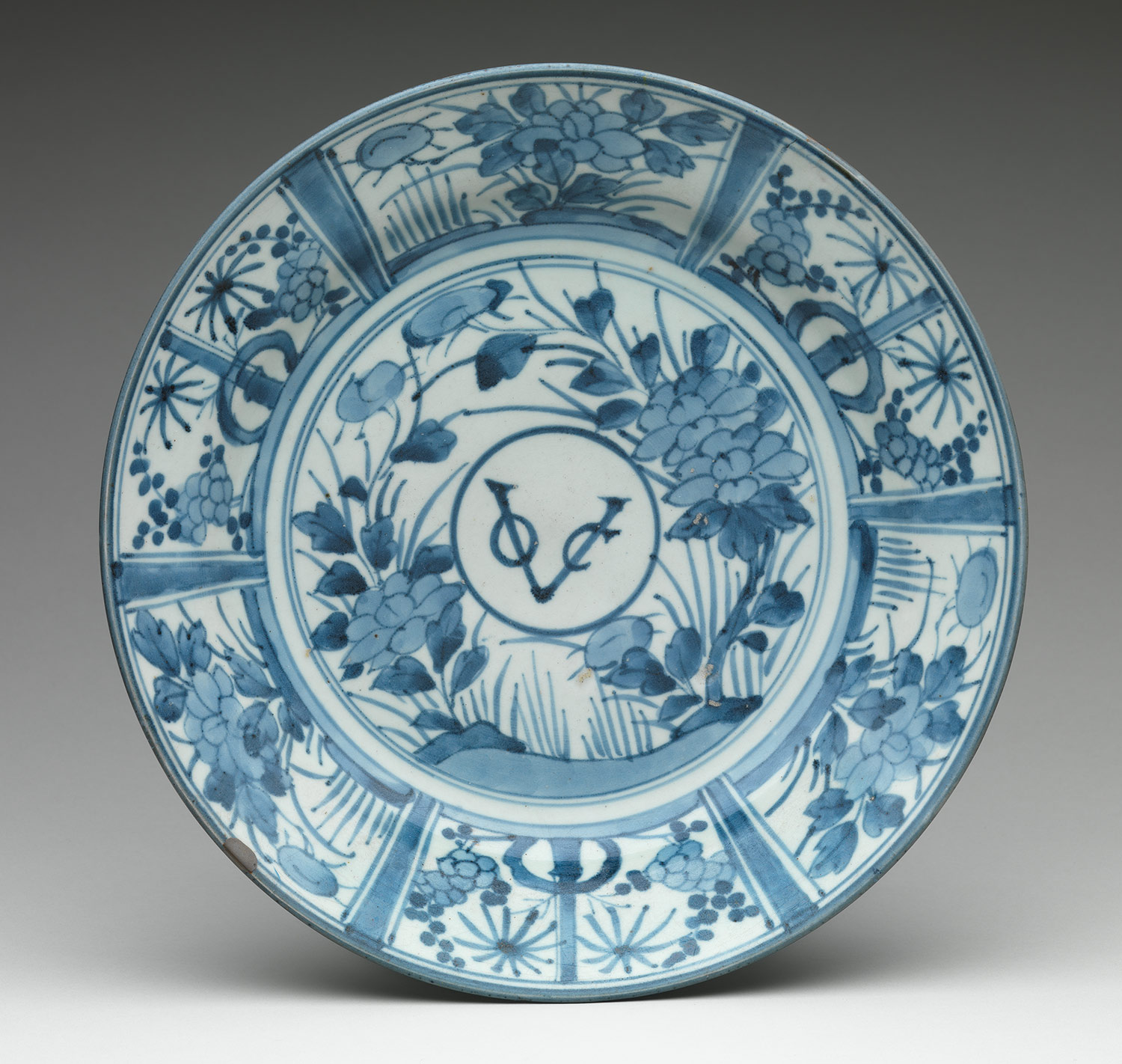 Additional resources:
A good 28 page article on the porcelain trade by the VOC from 1600 - 1660's. Discusses the introduction of Chinese porcelain via captured Portaguse ships in 1602 and 1604