Another commission from the Crown. Her Majesty requested gifts for the incoming Baron and Baroness of Aneala. Rather than make them items with their personal device (which I'll make for their step down), I thought I'd make them some Baronial regalia. More specifically, plates. I haven't glazed a plate in a while, concentrating more on cups and tiles so I thought it'd be interesting.
I started by documenting a design. This was quite a challenge as I wanted an extant item that displayed heraldry but I couldn't do anything too complex as I had only a month. As it was I picked up the final piece and posted it to Kilic the Thursday before the step up/down. Australia post sucks though, so it didn't arrive in time. Also, thanks to Kilic who bravely agreed to do the random stranger on the phone a favour and accept the package at his house.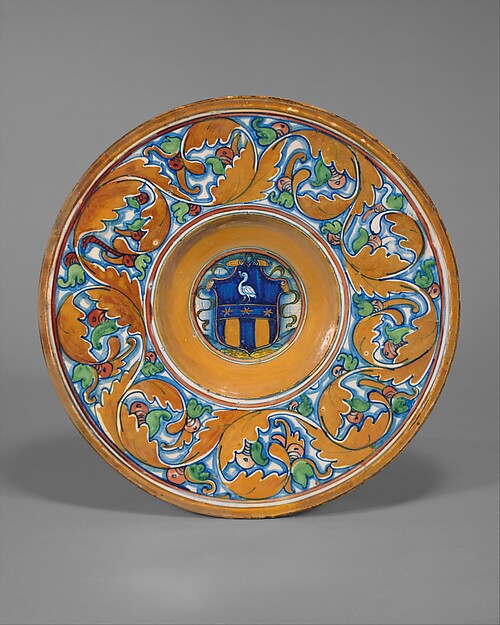 Plate (tondino) located in The Met Museum. 1525-30.
Italian, from the workshop of Maestro Giorgio Andreoli. Accession number: 1975.1.1092
I used many of the elements of this plate. I did away with the berries and smaller green tendrils. Originally I was going to paint the side of the plate blue, the background green and the acanthus yellow but I realised that there wasn't sufficient contrast between the yellow and the green so it all became blue. On the back I made concentric circles of yellow (centre), blue/turquoise, and green. I tried to replicate the white highlights by scratching white lines in but the yellow isn't orange enough to make the contrast sufficient in this image. I'm not 100% happy with these plates (will I ever be?) but on the upside, Aneala now has baronial plates that are microwave and dishwasher safe. One Barony down, many to go.
Completed plates. Left - prefired, right - post firing.